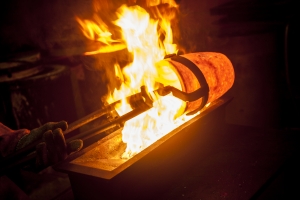 Emeko's refining procedure reflects the way we like to operate: straightforward and transparant. During the complete procedure, we will run through six big steps that allow a smooth operation. Every shipment is treated with the utmost care and as a stand-alone transaction. From customer acquisition through delivery, Emeko performs all activities inhouse, so no intermediairy parties are involved. Below are the six building blocks of our procedure.
Emeko needs to know who we are doing business with. The Client Identification Form contains all the necessary information to do so
During office hours you can propose your material at Emeko. Using a secured transport is also possible
All shipments will be melted into homogeneous scrap bars allowing Emeko to take the necessary sample for the fire assay
All shipment pass on to the refining schedule in order to convert the scrap material into fine metals
after the refining process is executed, the fine metals will be poured into our bullion
After analysis the material can be physically delivered, added to your metal account or simply sold
Before entering into an agreement, Emeko Refinery has set up a client intake procedure that will enable us to acquire all the necessary information for future cooperation. It consists of a Client Identification Form and an agreement on Emeko's Terms and Conditions. The Client Identification Form that needs to be signed requires you to submit the following company papers: incorporation papers, valid ID copies, signatories, etc. In addition, we require you to read and sign our terms and conditions. Once these criterias have been met, you will receive a unique client ID and you can start delivering your material.

At our refinery, all the deliveries (by yourself in person or by way of a secured transport company) are carefully unpacked and weighed in order to have the correct starting weight. As we strive for full transparency, the weighing will be done together with the client. A delivery note with the exact details of the shipment will be provided.

Once the material has been received and fully weighed, the shipments will be melted into homogeneous scrap bars. On each shipment, several samples will be taken in order to have the correct samples to start the analysis of the material and calculate the assay results. The bars will be molten and poured into small golden flakes that act as input for the refining process.

The flakes will be poured into containers with chemical liquids and will rest and dissolve for at least 8 hours. After this resting period, the material will be chemically boiled, cooled and poured into containers attached to a gas installation (SO²) that will further process the material. The fine residue will be extracted into funnels and move onto the cleaning process. In this cleaning process, the residue which is pure powder will be rinsed in order to obtain 99,99% pure metals.

After the residue has been fully rinsed and dried, it will be molten into pure golden bars. The scrap bars will be cut in order to weigh the exact weights to make our bullion (ranging from 50g to 1000g). The weighed parcels are then re-heated, molten and poured into the famous Emeko moulds.

Once your shipment has been assayed and refined, Emeko will be able to provide you with the exact percentages of fine content (Au/Ag/Pt/Pd). Our clients will have a number of options on how to further proceed: the fine content of your material can be added to your personal metal account, it can be physically delivered to you or you can choose to sell it to Emeko. The sales process will run through our trading office, i.e. Emeko Trading that will be in close contact with you.

Transparent pricing
Reimbursements within 24hrs
Certified since 1953
Fixed prices in advance
Internationally traded bullion
"I did business with EmeKo and i would like to recommend it to every one interested in melting their precious metals. It is very well done and the customer service is very reactive. I will say it in French "Bravo" for this work!"

Daniel P.